"[kjv] Aas for me and my house, we will serve the LORD." Joshua 24:15
        God made us like singing very much, and I am very grateful to God for using me to bless others by praising poetry song.God loves us to get close to Him by praising poetry song. I have now adopted all use of praise poetry song in my life for a long time, and constantly get the energy that inspired my life. Sometimes God gives me information by praising poetry.Praising poetry song is like the air in my life, the nutrients in the blood, and must be in my life.
          For many years, Fuller Church has been encouraging and practicing teaching children to sing praises songs, to praise,worship God, and to get more close to God.  Children Sing Praise Song 孩童唱赞美诗歌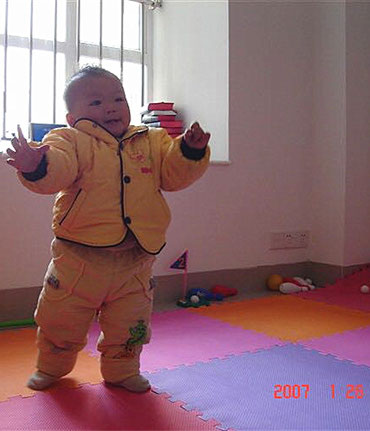 Thank God for helped Lydia taught Enoch the praise song since the beginning of the prenatal education.about praise song. In the first year after Enoch was born, Lydia also taught Enoch the skills of the worship music conductor. This is a picture of the Enoch as worship music conductor shot at Fuller, when Enoch was just can walk.
感谢神帮助Lydia,在胎教开始就一直教以诺赞美诗歌。在以诺出生后的第一年时间里,也教以诺当敬拜音乐指挥的技能。这是以诺刚会走路时,在福乐当敬拜音乐指挥打拍子的照片。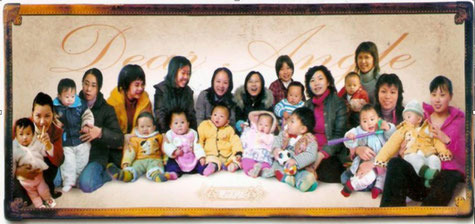 Mar.2006 -Feb.2008
Fellowship of Fuller Parents And Children in China
在中国,福乐家长和孩子们的团契
        The Bible said: "[kjv] Sing unto the LORD, all the earth; shew forth from day to day his salvation." 1 Chronicles 16:23 "[kjv] Speaking to yourselves in psalms and hymns and spiritual songs, singing and making melody in your heart to the Lord;" Ephesians 5:19 "[kjv] And they sing the song of Moses the servant of God, and the song of the Lamb, saying, Great and marvellous are thy works, Lord God Almighty; just and true are thy ways,
         Since God has gave us for such a wonderful blessing in praise poetry song, it is a wonderful thing that we often receive with gratitude. I hope to praise poetry song, just as God told us in the Bible, we can continue to listen and sing on the earth, and we will sing forever utill to Heaven. May all the glory be praised to our dear Heavenly Father, Amen! 
        " 至于我和我家,我们必定事奉耶和华。" 约书亚记 24:15 
神造我很喜欢唱歌。我也很感谢神使用我,通过赞美诗歌来祝福其他人。上帝爱我们通过赞美诗歌亲近他。我现在已经全采用赞美诗歌在我的人生里多时,并且不断从中获得鼓舞我生命的能量。有时候,上帝通过赞美诗歌给我信息。赞美诗歌就如我生命里的空气,血液里的养份一样,在我的人生里是必须一定要有的。
          多年来,福乐教会一直鼓励和实践教导孩子们颂唱赞美诗歌,赞美敬拜上帝,多多亲近上帝。Children Sing Praise Song 孩童唱赞美诗歌
        圣经说: "[hgb] 全地都要向耶和华歌唱。天天传扬他的救恩," 历代志上16:23 "[hgb] 当用诗章,颂词,灵歌,彼此对说,口唱心和地赞美主。" 以弗所书 5:19 "[hgb] 唱神仆人摩西的歌,和羔羊的歌,说 ,主神,全能者阿,你的作为大哉,奇哉。万世之王阿,你的道途义哉,诚哉。" 启示录 15:3 
        神既然给我们赞美诗歌这份如此美好的祝福,我们带着感恩的心常常领受是多么美好的事。我希望赞美诗歌,正如圣经上上帝告诉我们的,我们在地上能继续听和唱,到天家也永远颂唱。愿一切的荣耀颂赞归我们亲爱的父神,阿门!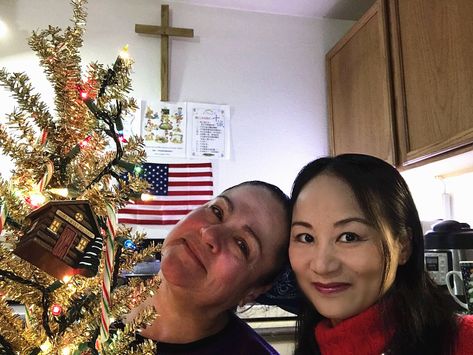 In December 2018, Lydia and Korina sisters sang hymns together in the Seattle area of Washington State,USA.
2018年12月,美国华盛顿州大西雅图地区,Lydia 和Korina 姊妹一起唱赞美诗歌。
《Forever Depend On》
《永远的依靠》
* You can listen to it on our website using your mobile phone.
   使用手机能在我们网站这里收听。
(English)
Whenever I face the storm
YOU are always by my side.
Life blessings share with me
Have deeper hope
Whenever there is a difficult block
YOUR will is unwavering
Make my heart full of peace
Have full unlimited of hope
YOU are my depend on and trust forever.
Stand faith heart in confidence to declare
I really experienced YOUR almighty power
Only YOU are my reliance forever
Stand faith heart in confidence to declare
When we come to worship wholeheartedly
The miracles are not far ahead
(中文简体)
每当我面对风浪
您总在我身旁
生命福份与我分享
更深地渴望
每当有困境阻挡
您旨意不摇晃
使我心中满有平安
充满无限希望
您是我永远的依靠
坚守信心来宣告
我真实经历您全能的力量
唯有祢是我永远的依靠
坚守信心来宣告
当我们来全心敬拜
神迹就在不远前方
(中文繁体)
每當我面對風浪 
祢總在我身旁
生命福份與我分享 
更深地渴望
每當有困境阻擋 
祢旨意不搖晃
使我心中滿有平安 
充滿無限希望
祢是我永遠的依靠 
堅守信心來宣告
我真實經歷祢全能的力量
唯有祢是我永遠的依靠
堅守信心來宣告 
當我們來全心敬拜
神蹟就在不遠前方
        We encourage more Christian families to join our Fuller's Praise Song Worship God Family Fellowship.
       我们鼓励更多的基督化家庭加入我们福乐的赞美诗歌敬拜家庭团契。
May God continue to blessings and help us,
愿上帝继续更多祝福和帮助我们,
Called by God, Fuller Founder , Preacher Lydia Huixian Chow
神所呼召使用 福乐教会创办人  周慧贤传道
Called by God, Fuller Church , Co-Worker Enoch Chow
神所呼召使用 福乐教会  周以诺同工